Screenbooks are available for web streaming through our website and as iOS and Android apps through the Apple App Store and the Google Play Store.
The African Queen: A Screenplay Analysis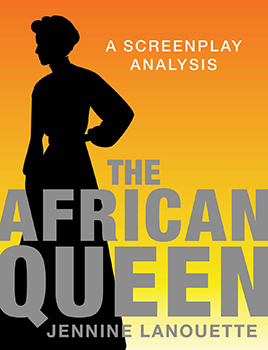 In this beloved Hepburn/Bogart classic, the delicate intertwining of adventure and romance stories offers a solid introduction to conventional three-act structure while also showing how a screenplay can resonate beyond just the external machinations of plot. The many deftly applied religious references – reeds, leeches, pestilence, animals fleeing two-by-two – point the way to another, deeper layer of meaning. These bible motifs seep into our unconscious unnoticed while providing crucial support to a surprising break in the contemporary rules of drama. When looked at in the context of screenwriter James Agee's internal struggles, the thematic layer of The African Queen is a clear demonstration of the old adage "the more personal it is, the more universal it becomes."
Here's what others have to say about Screentakes screenbooks.
"Lanouette's ideas are clever and well thought out . . . . A fresh way of looking at script analysis."
—Larry Karaszewski, Screenwriter, Ed Wood, Man on the Moon, The People vs. Larry Flynt
"Screentakes is an immensely enjoyable way to go deep into movies we know and love . . . expanding our appreciation for these masterpieces."
—Anita Monga, Artistic Director, San Francisco Silent Film Festival
"Jennine's e-books are an extremely compelling educational resource that goes above and beyond a textbook or even a lecture. Truly inspiring!"
—Joanne Parsont, Director of Education, San Francisco Film Society
"A thought-provoking resource presented with clarity and depth for novices and pros alike. . . . Every filmmaker should have it!"
—Don Bohlinger, Screenwriting Professor, USC School of Cinematic Arts