Screenbooks are available for web streaming through our website and as iOS and Android apps through the Apple App Store and the Google Play Store.
Kramer vs. Kramer: A Screenplay Analysis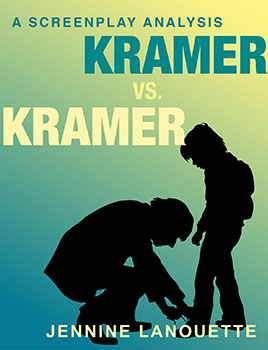 A unique collaboration between writer/director Robert Benton, producer Stanley Jaffe and lead actor Dustin Hoffman led to an unusually authentic story of a man suddenly thrust into the primary caretaker role who must learn to care for his five-year-old son. When he is forced into a custody battle with his ex-wife, the viewer is forced to engage with larger questions of gender expectations in parenting. Ted Kramer, a fighter and a winner in the corporate environment, must ultimately move beyond his habitual way of being and give up his custody fight to do what's best for his son, and thereby prove his worth as a true parent. Purchase the web-streamed version now. iOS and Android apps coming soon!
Here's what others have to say about Screentakes screenbooks.
"Lanouette's ideas are clever and well thought out . . . . A fresh way of looking at script analysis."
—Larry Karaszewski, Screenwriter, Ed Wood, Man on the Moon, The People vs. Larry Flynt
"Screentakes is an immensely enjoyable way to go deep into movies we know and love . . . expanding our appreciation for these masterpieces."
—Anita Monga, Artistic Director, San Francisco Silent Film Festival
"Jennine's e-books are an extremely compelling educational resource that goes above and beyond a textbook or even a lecture. Truly inspiring!"
—Joanne Parsont, Director of Education, San Francisco Film Society
"A thought-provoking resource presented with clarity and depth for novices and pros alike. . . . Every filmmaker should have it!"
—Don Bohlinger, Screenwriting Professor, USC School of Cinematic Arts
You can watch Kramer vs. Kramer on the following streaming websites: