Screenbooks are available for web streaming through our website and as iOS and Android apps through the Apple App Store and the Google Play Store.
Thelma & Louise: A Screenplay Analysis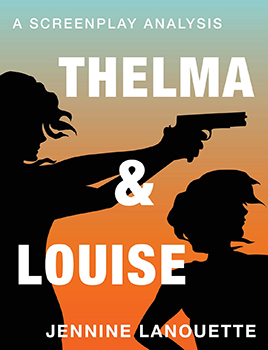 In her story of two women "on the lam" after killing a man for assaulting them, screenwriter Callie Khouri creates an action-packed road film that is also a thematically rich metaphor. While it is Louise's act of shooting Harlan that triggers the plot, Khouri's belief that women in this world must live under a soul-crippling double standard is also embodied in Thelma's radical awakening. Entering the story as a sheltered, dependent housewife, she makes her final exit as an empowered, self-directed woman. Thus, it's Thelma's incremental progression toward self-empowerment, rather than Louise's action story of escape, that both determines the film's structure, and supports its tragic thematic resonance.
Here's what others have to say about Screentakes screenbooks.
"Lanouette's ideas are clever and well thought out . . . . A fresh way of looking at script analysis."
—Larry Karaszewski, Screenwriter, Ed Wood, Man on the Moon, The People vs. Larry Flynt
"Screentakes is an immensely enjoyable way to go deep into movies we know and love . . . expanding our appreciation for these masterpieces."
—Anita Monga, Artistic Director, San Francisco Silent Film Festival
"Jennine's e-books are an extremely compelling educational resource that goes above and beyond a textbook or even a lecture. Truly inspiring!"
—Joanne Parsont, Director of Education, San Francisco Film Society
"A thought-provoking resource presented with clarity and depth for novices and pros alike. . . . Every filmmaker should have it!"
—Don Bohlinger, Screenwriting Professor, USC School of Cinematic Arts