In Search of a Balanced World: Miss Representation
Posted by Jennine Lanouette on Wednesday, May 11th, 2011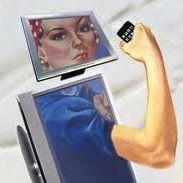 Lately, I have come to rely on feature documentaries to tell me what's really going on in the world. In the last year or so, I have learned disturbing truths about the financial crisis (Inside Job), the housing crisis (American Casino), the education crisis (Waiting for Superman) and, just recently, the civil justice crisis (Hot Coffee). Of course, these are simply addendums to those big crises we've known about for some time in the healthcare system (Sicko) and the environment (An Inconvenient Truth).
Sometimes these films tell me what I already kinda know but don't want to think about. And sometimes they reveal heinous abuses I had no idea of, and that the great majority of decent, thoughtful people would not stand for if only they knew about them, too.
The latest issue-oriented feature documentary to expand my worldview is about two subjects very close to me: women and the media. It is aptly called Miss Representation. Basically, it all boils down to this: the media has two objectives in its portrayals of women. One, to pose their worth entirely as a measure of physical appearance. And, two, to abuse and discredit any woman in a position of power or leadership. This second objective appears to be paying off quite well since the U.S. is way down the list of industrialized nations when it comes to female representation in elected positions.
Here are a few bare statistics I learned. Among the 250 top-grossing films last year, 16% of the protagonists were female. (One of the film's commentators had a catchy name for such "girl power" protagonists as Lara Croft: Tomb Raider. She called them, "the fighting fuck toy."). Among writers of those top-250 films, 10% were female and among directors, 7% were female. The power continues to diminish the further up you go. Among film industry executives with any kind of clout, 3% were women. You've come a long way, baby.
The big picture I saw emerging from this film is of an issue that goes beyond being simply a grievance about equal rights for women. The apparently deliberate and calculated misrepresentation of women in the media is a crisis for humanity. It is well known by now among reasonably informed people that the world has devolved to a place of tremendous imbalance in the economic, humanitarian and environmental spheres. This film tells us that gender imbalance is a critical ingredient for maintaining all other imbalances. If we want more balance in the world, we must begin with balanced gender representation.
See the film. Here's the trailer.
……………………………………………………………………………………………………………………………..
You can watch Miss Representation on the following Video On Demand websites:
……………………………………………………………………………………………………………………………..